CORE FEATURES
Ready-to-go Features To Start Selling On Social Media
💥Make shopping simple & Automate your workload🤖
⏰Save Time 💰Less Employees 🤩More Customers 🧑‍💻Easy To Manage
Who we are
Our goal is to help online business grow by providing the right technology platform which could automate their workloads, marketing in the most effective way and could build meaningful relationship with their customers.
Over 5 years of experience in developing Facebook Messenger Chatbot and doing marketing campaign for all sorts of business and enterprises, we have been fascinated and working so hard in developing another new platform for managing sale on social media and have officially launched to public in mid 2019. We are the first one and only company in Cambodia to serve this platform which could print comment from Facebook Live into sale reciept and currently more than 500 online business are subscribing to this service.
Vision and Mission
We believe in our vision to develop this platform into the most advanced and out-standing technology platform solutions with enomous set of features that can fit to all sizes of business and enterprises.
All-in-one Platform
Becoming a suite of software tools designed to manage every aspect of an organization's needs.
Customizable
Being able to update and advancingly develop to fit requirements from all organizations.
Online Payment
Encouraging the advacenment of using online payment more easily and extensivly.
World-class Platform
Being recognizable and world-wide use.
OUR SERVICES
Tools To Grow Your Business
Mange your online sale and Marketing your business made easy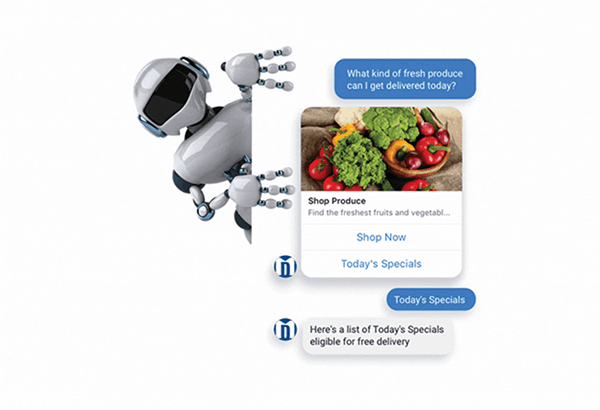 Advanced AI Chatbot
A Facebook Chatbot is an assistant designed to respond automatically to your users. It works directly within Facebook Messenger as a conversation and can be used as a great way to send content and engage with your audience. Based on the niche like eCommerce, travel or healthcare, Facebook Messenger ChatBot can turn your business customer friendly 24/7 with the least possible human effort. It helps you market, convert, and support customers for dedicated assistance.
More than 50 online bussiness and enterprises have been using chatbot built by Sousdey Cambodia.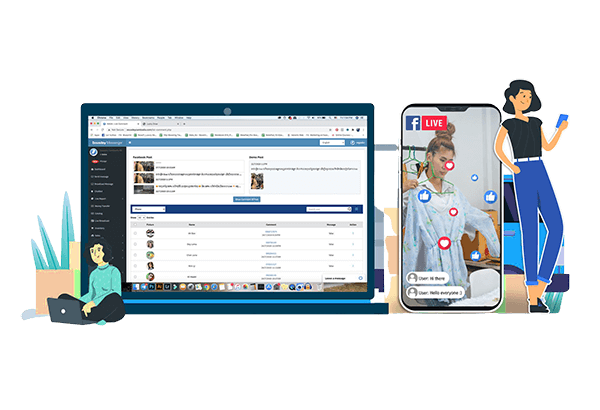 Facebook Live Management System
Sousdey CRM platform is one of the most powerful tool yet and firstly made possible by Sousdey Cambodia. It is smart enough to detect customers' orders from Facebook Live comment and make it even more convenient to see in the dashboard. User could instantly and simultaneously print comments into sale reciept with zero wasting time for preparing the package to get ready for delivery. Along side with other core features includes auto-reply comment, save and export customer's data, generate daily sale report, and money-transfer dashboard have made your Facebook Live sale management easy and more convenient like never before.
More than 500 online bussiness around Cambodia are currently subscribing to this service.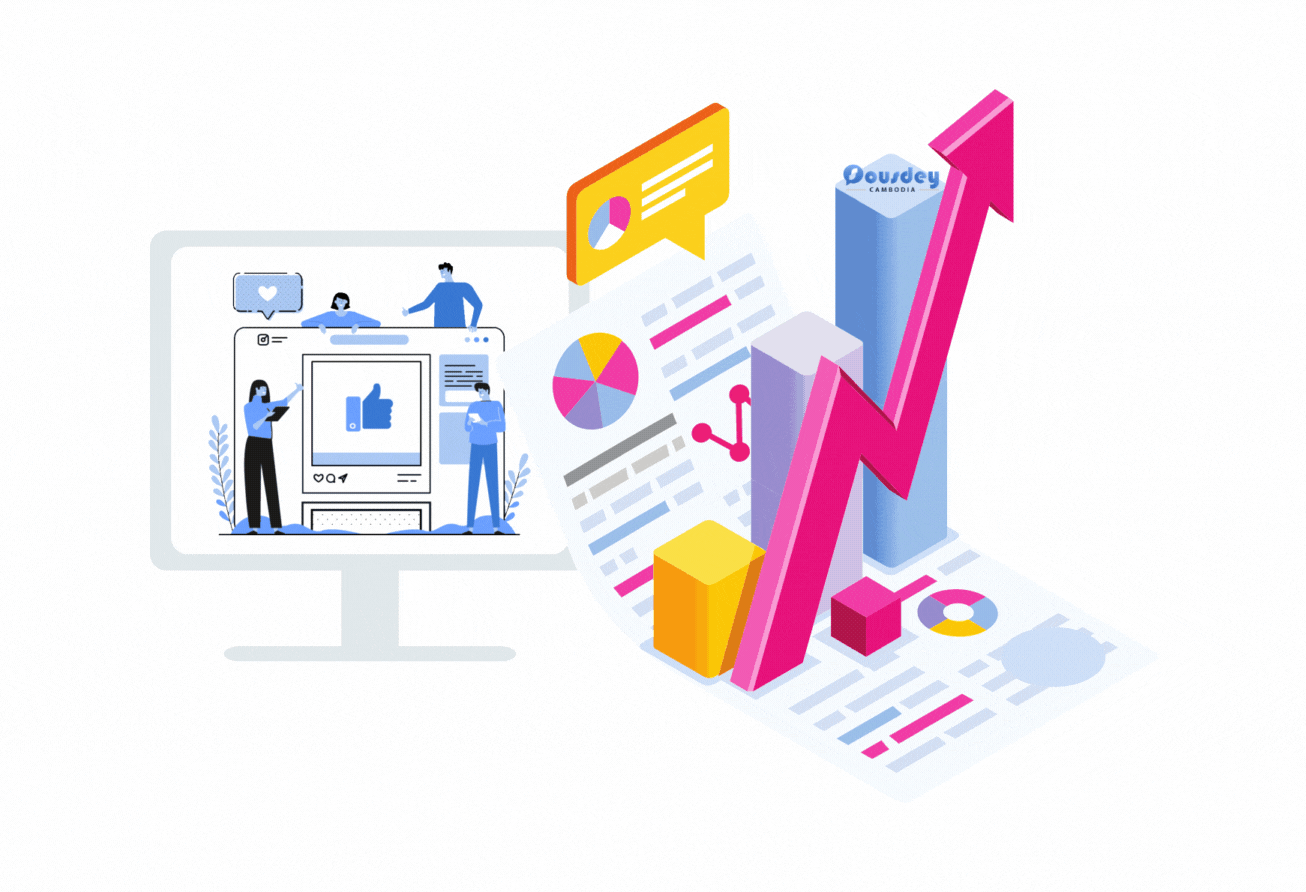 Digital Marketing Tools
A part of ousdey CRM platform is to provide an access to an innovative messaging and analytic platform which is directly linked to your facebook chatbot. By this way, all the people who will come to talk to your chatbot or click on your facebook ads will be registered in your list of prospects. When your prospects are registered, the platform gives you the possibility to group and contact them directly by sending different types of messages (text, questions, images, stickers, files).
The platform can help your business to develop and deploy messaging platform strategies, improve your customer interactions, lower your costs, and establish a deepen and direct one-to-one relationship with your customers.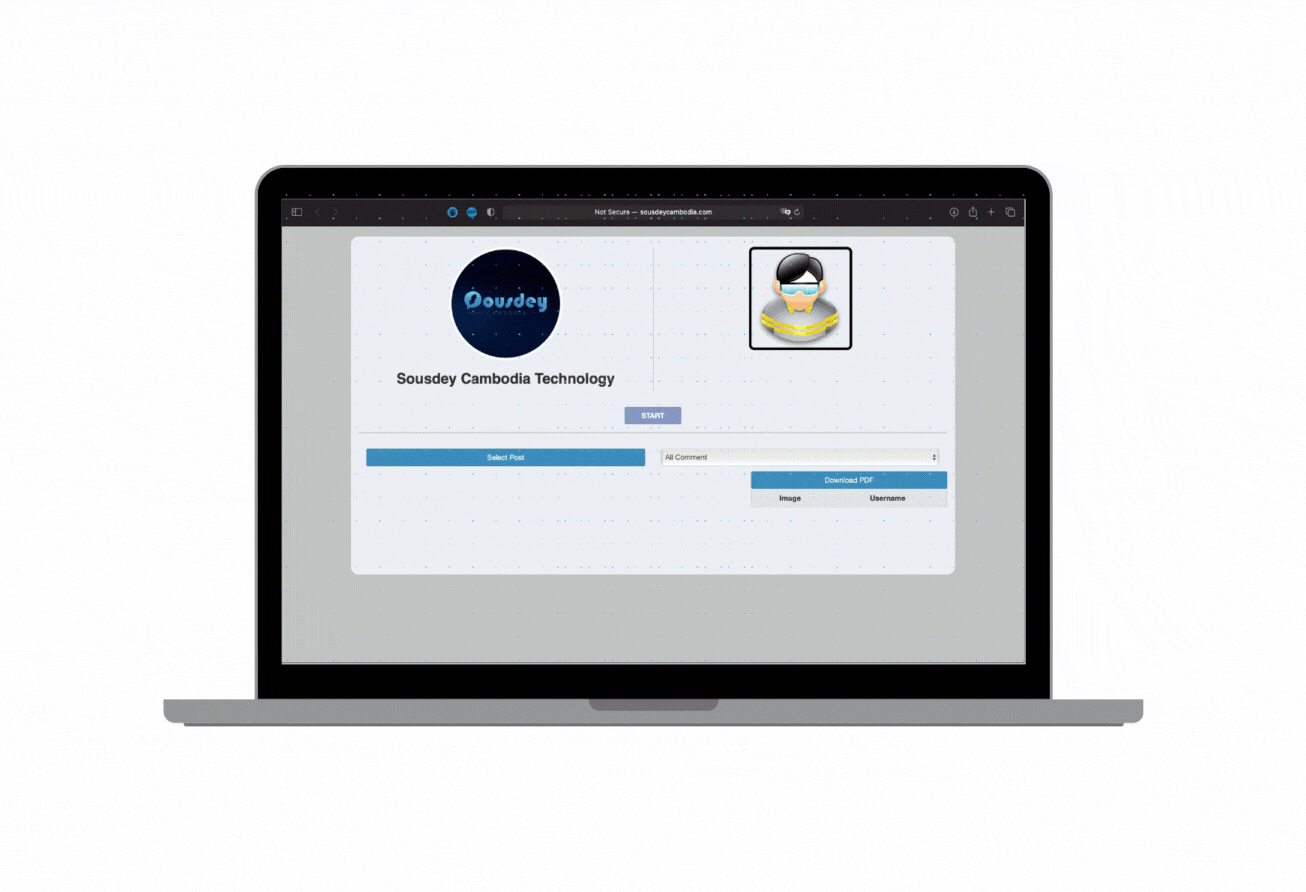 Digital Event Support
Bringing your event to the next level by rigistering your guests with scanning QR code or Messenger Chatbot. This way, you could collect all your guests information from their Facebook Profile and you could use those data to run digital lucky draw directly on Sousdey Platform to make your event even more fun and enjoyable.
FEEDBACKS
Let's Hear From Our Customers
Be part of your success stories is Sousdey Cambodia's goal.

ហេង មួយលាង
LShop Cambodia
កម្មវិធីសួស្ដី បានធ្វើឲ្យមានភាពងាយស្រួលមួយចំណែកធំក្នុងការគ្រប់គ្រងការបញ្ជារ ទិញរបស់អតិជននៅលើ Facebook Live។ ពីមុនខ្ញុំត្រូវនៅមើលការរៀបចំឥវ៉ាន់ឲ្យភ្ញៀវរហូតដល់ម៉ោង៤ភ្លឺស្ទើររាល់យប់ ប៉ុន្តែឥឡូវគ្រាន់តែ Live ចប់ភ្លាម ការរៀបចំឥវ៉ាន់ក៏ហើយតំណាលគ្នាដែរ ដោយសារបច្ចេកវិទ្យាព្រីន comment មួយនេះ។ ម្ចាស់អាជីវកម្មទាំងអស់មិនគួរមើលរំលងកម្មវិធីនេះទេ។

Thanks for good service.

មុនពេលប្រេីកម្មវិធី​សួស្ដី ត្រូវការកត់លេខប្រេីពេលយូរ ជួនប្រញ៉ាប់ពេក​កត់ខុសលេខ ​ហេីយចាប់ពីពេលប្រេី​កម្មវិធីសួស្ដីមក​ មានភាពងាយស្រួលច្រេីន​ លឿន​ ហេីយបានរៀបចំឥវ៉ាន់ភ្លាមៗ។

កម្មវិធីសួស្តី សម្រាប់ផ្នែកអចលនទ្រព្យ គឺបានជួយសម្រួលការងារច្រើន គឺវាបានប្រមូលលេខអតិថិជនបានលឿន ចំណេញពេលវេលា អាចទាញយករបាយការណ៍បានសម្រាប់ទុកប្រើថ្ងៃក្រោយ វាអាចឆ្លើយតបខមមិនភ្ញៀវដោយស្វ័យប្រវត្តិ និង convert ទៅជាឆាត ចំណេញDataទុកប្រើប្រាស់ sponsor message ចំណាយតិច ឯតម្លៃធូរថ្លៃ និងសេវាល្អរហ័ស។
OUR TEAM
Meet Sousdey's Team